.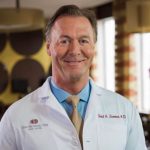 Todd Lanman
Spinal Neurosurgeon, Cedars-Sinai & UCLA Medical Centers, Lanman Spinal Neurosurgery
Expertise: Neurosurgery
Details:
Bone spurs occasionally form at the base of human skulls, but their growth has not been linked to the use of handheld devices
CLAIM
'Horns' are growing on young people's skulls. Phone use is to blame, research suggests.
SOURCE: Isaac Stanley-Becker, The Washington Post
Published: 19 Nov 2019
VERDICT

---